Bucket of Bread Baking Kit

"An Amazingly Versatile Dough Mix"
Seven Grains
Place of origin: Made in La Crosse, Wisconsin
Net Weight: 1lb 1.88oz (507g)
Free From: Dairy, Eggs, Preservatives, Added Sugar
Ingredients: Organic Unbleached Wheat Flour (Hard Red Spring Wheat), Seven Organic Grains (Hard Spring Wheat, Rye, Yellow Corn, Brown Rice, Steel Cut Oats, Millet, and Barley), Organic Non-GMO Hard Red Spring Wheat with Bran and Germ Removed, Salt, Yeast. Comprised of more than 95% Organic Ingredients.
Instructions:
1. Combine contents of 1 large and 1 small bag of with 1.5 cups of lukewarm water (98-105°).
2. Blend or mix by hand until nothing dry is left.
3. Place well-mixed dough into the bucket, loosely place lid to cover, and let it rise for 2-3 hours or until doubled in size.
Shape and bake the risen dough at 450°F/232°C for 30 minutes until an internal temp of 190-200°F/88-93°C using parchment paper lined cooking sheet (1.65lb loaf).
Refrigerate risen dough in the sealed bucket for up to 2 weeks!
About Bucket of Bread
Chris Wysong is a career Army veteran. Now, he is the owner and founder of Bucket of Bread LLC located in La Crosse, Wisconsin.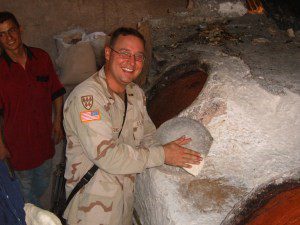 Always an avid cook and baker, Chris credits  Like you as well, he really just wants to share this amazing method of creating wonderfully delicious items while also using that as a platform to do some good in the world. Chris gives back at least 10% of all profits to charities combating hunger and fighting food insecurity.
For years, Chris has been making delicious at-home baked products combined with his homemade meals. Whenever there was a charity or event for fundraising, Chris would bake something special to add to the event. He found his breads and other baked goods were especially something to appreciate from an outpouring of constant feedback. Some folks even referred affectionately to him as, "The Bread Guy".
About the Wisconsin Veterans Museum
Thank you for visiting the Wisconsin Veterans Museum website. We tell the stories of Wisconsinites who have served their country since the Civil War. Since 2013 the WVM has been a proud Smithsonian Affiliate. In addition to award-winning exhibits and in-person events, the Wisconsin Veterans Museum has a strong online presence. With Facebook posts and virtual programming, the Museum is able to reach a far broader audience than ever before. Of course, nothing takes the place of seeing the exhibits yourself first-hand at the Museum. We're located 30 West Mifflin Street in downtown Madison, Wisconsin. We look forward to seeing you there soon!
Our mission is simple: To acknowledge, commemorate, and affirm the role of Wisconsin veterans in the United States of America's military past and present. The WVM is an educational activity of the Wisconsin Department of Veterans Affairs. All purchases, both here online and in-person help us to fulfill our mission. Thank you.