Tapped Maple Syrup
Espresso Infused Blend
This variety from Tapped has coffee beans from Mission Coffee (Plover, WI) blended with their Grade A maple syrup.
About Tapped Maple Syrup, LLC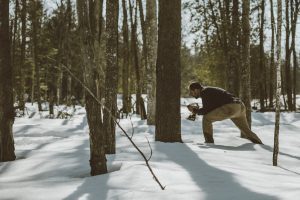 On land in Northern Wisconsin owned for five generations by the Solin family, maple syrup collection has been a family affair. Today the company, located in Stevens Point, WI, is co-owned by Abi and Jeremy Solin but all of the family are involved in all levels of the business, from collecting to processing and everything in between.
The Solins take pride in caring for their land. The health of the forests on their lands are paramount in all of the decisions they make. By purchasing from Tapped Maple Syrup, you are helping the Solins continue to sustain the forests for years to come.
From the back of the package
We've been making rich, flavorful maple syrup in small batches for 5 generations in northern Wisconsin. The production of maple syrup helps us continue to care for and sustain our lands.
Use this delicious syrup to mix craft cocktails, flavor warm breakfast cereals, sweeten coffee or tea, or substitute for processed sugar in any recipe.
5% of our profits are dedicated to Farmshed to support sustainable, local food systems.
About the Wisconsin Veterans Museum
Thank you for visiting the Wisconsin Veterans Museum website. We tell the stories of Wisconsinites who have served their country since the Civil War. Since 2013 the WVM has been a proud Smithsonian Affiliate. In addition to award-winning exhibits and in-person events, the Wisconsin Veterans Museum has a strong online presence. With Facebook posts and virtual programming, the Museum is able to reach a far broader audience than ever before. Of course, nothing takes the place of seeing the exhibits yourself first-hand at the Museum. We're located 30 West Mifflin Street in downtown Madison, Wisconsin. We look forward to seeing you there soon!
Our mission is simple: To acknowledge, commemorate, and affirm the role of Wisconsin veterans in the United States of America's military past and present. The WVM is an educational activity of the Wisconsin Department of Veterans Affairs. All purchases, both here online and in-person help us to fulfill our mission. Thank you.