Operation Coffee – Grandpa Joe's (Ground):
About Operation Coffee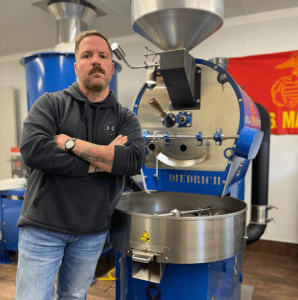 Start the conversation with a quality cup of coffee… 
By founding Operation Coffee, Wisconsin veteran Sam Floyd (USMC) has truly found his mission. At first, after returning home in 2005 from a tour in Afghanistan, Floyd struggled to adjust to civilian life. Like many veterans navigating their post-military careers, he fought a battle for his mental health and at one point, contemplated taking his own life. Because of his experiences overseas, Floyd felt alienated from his friends and loved ones. Therefore, he knew that in order to find happiness at home, rediscovering and pursuing a passion would be essential. That passion? Coffee. 
Since Sam had had many impactful conversations over a cup of joe, he decided coffee itself would be his passion. These conversations became the seed for the blossoming idea that would save Floyd's life — and potentially the lives of other veterans facing the same post-combat mental health challenges. 
From the Back of the Package…
Grandpa Joe 
The old coffee grinder hanging in our roastery is my daily reminder of Grandpa Joe. For many years that sturdy little grinder lived in the small brick farmhouse that Grandpa built after returning from WWII. It was mounted on a support column in the basement and when it was being used a low frequency "rumble" could be felt throughout the old farmhouse.
My quiet grandfather lived his life with intention; guided by virtues of selfness, reverence for nature and love of God. A lifetime of hard work eventually reclaimed much of Grandpa's strength and mobility; but cheerfully giving to the end, he would often rise early to make breakfast for his bride of nearly 70 years. If I stopped by the farmhouse during those early hours, I would sometimes hear the familiar rumbling of that old coffee grinder – and I would anticipate the aroma that would soon drift up the stairs. 
-Sam Floyd 
About the Wisconsin Veterans Museum
Thank you for visiting the Wisconsin Veterans Museum website! Since 2013 the WVM has been a proud Smithsonian Affiliate. In addition to award-winning exhibits and in-person events, the Wisconsin Veterans Museum has a strong online presence. Since 1993, the Museum has been located on Capitol Square in downtown Madison, Wisconsin. Prior to that time, the Museum was housed in a small room within the State Capitol building itself. 
With Facebook posts and virtual programming, the Museum is able to reach a far broader audience than ever before. Our mission is simple: To acknowledge, commemorate, and affirm the role of Wisconsin veterans in the United States of America's military past and present. The WVM is an educational activity of the Wisconsin Department of Veterans Affairs whose webpage can be found here. All purchases, both here online and in-person help us to fulfill our mission. Thank you. 
In addition to coffee, we also sell tea from a veteran-owned company. Click here! https://store.wisvetsmuseum.com/product-category/rations/